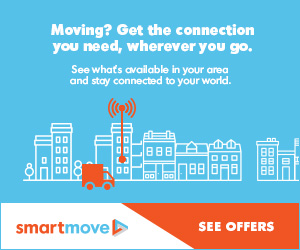 Cable ONE is among the 10 largest cable companies in the U.S. and operator of cable systems that serves approximately 720,000 customers in 19 states with cable television, telephone and high-speed Internet service. Cable ONE have now grown to the 10th largest traditional cable company offering our consumers a wide range of the latest products such as High-Definition programming, wireless Internet service and phone service with unlimited long distance calling. Cable One committed to provide customers with the latest products and technical advancements, while maintaining the highest level of reliability and customer care.
TV, Internet and Phone offers are just a click away - CableMover.com
$40 per month
Up to 15 Mbps download speed
Up to 1 Mbps upload speed
Basic 50GB Data Plan
Ideal for customers who primarily surf, check email or do occasional streamed video.
$40/mo. for 3 months
Up to 100 Mbps download speed
Up to 3 Mbps upload speed
300GB Data Plan
Connect up to 5 devices
$50/mo. for 3 months
Up to 150 Mbps download speed
Up to 5 Mbps upload speed
600GB Data Plan
Connect up to 8 devices
Ideal for HD video streaming, gaming, multiple surfers
$75/month for 3 months
Up to 200 Mbps download speed
Up to 10 Mbps upload speed
900GB Data Plan
Connect up to 10 devices
Ideal for multiple HD video streaming, serious gaming
(1 Review)
---
Bob
Norfolk, NE
May 9, 2016
Nightmarishly-Bad ISP
While Cable ONE provides fairly good speeds (I'm currently on 80Mbit/s), the connection is unreliable and prone to dropping out and disconnecting now and then. They have extreme bandwidth limitations, so having all of that download speed is utterly worthless. Imagine getting a really fast, fuel-efficient car, but you're only allowed to drive 50 miles per month. If you go over this bandwidth cap, they will automatically upgrade you to the next tier of internet and force you to keep it for 3 months before you can downgrade again. Want more bandwidth? Too bad, even a tiny bit of extra bandwidth requires you to upgrade to the next package which is usually an additional $30/month or so. Worst of all, they monitor your every move, constantly spying on your activities. I've never used a worse ISP in my entire life, I'd rather use Time Warner for god's sake. more...
Radi
Lewiston, ID
Nov 18, 2015
Rate is high
Cable One gave me discounted price for 3 months with fast Internet speed. I was aware that price will go up after 3 months. However price went up again after 6 months of service. The service has been great without any interruption but the rate is very high. Now looking for affordable cable Internet service with good speed. Thanks to Ispprovidersinmyarea.com for helping to compare different providers at one place.